We just spent some time island hopping. Images of palm trees, turquoise waves, and warm tropical breezes may have been the visual that comes to mind, but this time the islands we were visiting are located off the coast of Washington in the verdant Pacific Northwest. The San Juan Islands accessible by the Washington State Ferry System would be our desired destination as we made our way to the Anacortes Ferry terminal an hour and a half drive from Sea-Tac. The agricultural corridor of Skagit stretched before us with its now browning patchwork of fallow fields. Wine tasting rooms and farm stands tempted us to stop and take some Washington refreshment before our upcoming ferry ride.
We were desirous to delight in this unspoiled area with its abundant flora and fauna while discovering how the San Juan Islands continue to withstand the growing number of tourists while preserving environmental integrity. How does an area restricted by geography and limited infrastructure uphold its increased tourism while maintaining its pristine and delicate habitats? A dedicated effort has been made in public policies that support and preserve pristine eco-systems. The idyllic San Juan Islands is a place where there are no traffic lights, has more miles of shoreline than any other county in the contiguous United States and is the first county to ban Jet Skis.
Getting there is an adventure in itself.  The San Juan Islands of Washington State located between the US mainland and Vancouver British Columbia, with a total combined population of 16,320 includes San Juan Island, Lopez Island, Orcas Island and Shaw Island. Keeping in mind, almost everything physically available aside from what can be harvested, fished or produced locally must be transported in, most often by the way of Washington State Ferries, various watercraft or seaplanes.
The town of Anacortes Washington is the ferry transport hub for a trip to the San Juan Islands. With a population of approximately 17,000 and just a little over an hour's drive from Seattle, it proved to be an attractive interlude to the hustle and bustle of Seattle's burgeoning tourist scene. Located on the Fidalgo Island yet accessible by car, Anacortes has 3,000 acres of preserved forestland with abundant hiking, biking and camping outlets. Water recreation abounds as well as whale watching, fishing, and boating.
CUISINEIST  IGTV Friday Harbor Ferry Arrival 
Although we were enticed to spend many hours discovering this island, we were on our way to San Juan's Friday Harbor. We nervously drove our rental car into the yawning cavernous mouth of the waiting Ferry. We were surrounded by logging trucks, gas trucks, semi-tractor trailers along with a large contingent of bicyclists and backpackers. When given the signal to board, each one taking its rightful place, cars, people, bikes and semi-trucks flowed seamlessly aboard the hardy flotilla. As Ferry newbie's, we quickly became ardent ferry advocates as we settled into this relaxing ride across the Pacific Ocean as mother nature's fall foliage was just peaking with her amber and golden hues among the tower pines along the distant shoreline. Ferries provide a type of relaxing social setting with an on-board café and games and puzzles are available on the numerous tables for those who want to engage in a lively match up. Many ferry goers spend their time looking at the scenery, reading, eating or gazing into their mobile devices.
Abundant seabirds darted and dashed across the undulating waves while a few photo seekers stopped to observe stunning scenery on the ferry's bow. Taking in the fog-shrouded waters as we neared our first stop, Friday Harbor of the San Juan Islands, we huddled together as the morning fog gently lifted from the surging waters.  This is the habitat to six different species of Salmon and 22 varieties of endangered Puget Sound Chinook salmon, Steller sea lions, river and sea otters, lingcod, 26 species of rockfish, the Dall's porpoise, and the Orca whale- also known as the killer whale. With the steadily growing tourism continuous challenges arise as man and nature engage in the delicate dance of co-existence.
In 2004 the San Juan Islands were officially designated a Marine Stewardship area supporting the preservation of this pristine natural marine environment. As recently as January 2019, WSF (Washington State Ferry System) completed its 2040 Long Range Plan, which according to wsdot.ws.gov, "the emphasis is on sustainability and resilience."
"Because we operate our 23 ferries on Puget Sound and manage 20 terminals on its shores, we have an obligation to ensure WSF is doing everything we can to protect our environment," said the head of Washington State Ferries, Assistant Secretary Amy Scraton. The plan considers the short-and long-term E's of economy, environment, and equity that underlies WSDOT's decision making and planning. Transporting over 24.7 million riders in 2018 alone, through 10 routes and 20 terminals there is much to be deliberated and put into action. The fallout directly related to CO2 emissions and its calcifying and detrimental effects on the shellfish and seafood industries alone raises alarming concerns considering WSF  is the largest consumer of diesel fuel-utilizing approximately 18 million gallons per year. By Implementing speed reductions, WSF has saved approximately 450,000 gallons of fuel, and 4,365 metric tons of CO2 emissions. Other preventative measures outlined hope to maintain ecosystem balance an area where the shellfish and seafood industries drive the economic, cultural and food sources of Puget Sound.
Entering Friday Harbor marina, we could sense that there is much to be considered as to how to proceed within this delicate archipelago. Visiting in the fall proved ideal with its vibrant amber colors and rolling countryside abutted by the mighty Pacific Ocean. Choosing to stop by local's favorite coffee shop, The Bean Cafe, we spent a few moments with Communications & Stewardship Coordinator Amy Nesler of San Juan Island Visitors Bureau, as she clued us in on places of interest while giving us a list of efforts that have aided in preserving this tranquil enclave. "Some of the on-going practices we have in effect on the San Juan Island have been the discontinuation of plastic bags, no Styrofoam wherever possible and since 1996 a ban on personal watercraft has been in effect. We have an on-going policy to implement the three pillars of sustainable tourism: reduce, reuse, and recycle."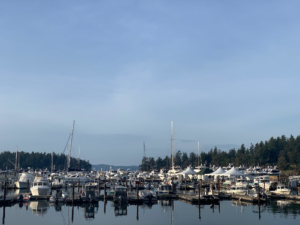 The San Juan Islands is a part of the Salish Sea, one of the world's most biologically rich inland seas covering a coastline of 7, 470 Km, including islands. The Salish Sea is home to endangered and threatened species under the US Endangered Species Act including the Southern resident killer whales also known as Salish Sea Orcas, Marbled Murrelets, and species of Pacific Salmon. The area must promote healthy ecosystems for future generations to be able to enjoy this unique area.
The decision to visit the Whale Museum, an environmental and educational informational center was a natural first juncture on our island quest. Located within walking distance from the harbor, we were eager to learn more about the Salish Sea ecosystem and the interesting history of the area.
We entered and looked at the information located throughout the well-organized displays while passing by the central gift store filled with cuddly Orcas play toys and other tchotchke items. We settled down to watch an educational video depicting a rescue of a Killer Whale named Springer which proved to be a harrowing tale of Springer's separation from her pod, a harrowing rescue, and surprising reunion. We learned that each whale is documented and tracked throughout their lifetime by the painstaking data collected by marine scientists and biologists as they monitor the environmental impact on overall Orca health as well as their interrelations among the various flora, fauna and sea life in the area. We were taken aback at their innate dedication and instinctual life-time bonding to their unique pod. Each member has an important and interactive role in the food chain. While considered the top predator in the waters the importance of the health of what that they prey upon is also equally as important for the well-being of their ecosystem.
courtesy of Visit San Juans
Upstairs we watched another informative video of the major threat to the Orcas and much of the sea-life in the Salish Sea- Marine traffic area. According to the World Wildlife Fund, underwater noise makes it difficult for the orcas and other whale species to use echolocation which allows them to find and hunt salmon. Vocalizations and calls of the Killer whale are exclusive to their pods or family groups who use their unique sounds to find prey and to alert of possible predators. Listening to an actual underwater recording of the sound of a sea freighter as it interfered with the communication of a pod of Orcas was deafening to our ears. Orcas can't communicate with each other, become disoriented and lose their feeding locations and often this proves fatal.
Exceptional detail of the problem was outlined by singer and songwriter Sting, an environmental advocate, as he explained how unregulated loud underwater sounds can adversely affect our marine habitats.  The average sea freighter has also become increasingly bigger escalating the endangering of large underwater mammals. Efforts to curb the underwater noise pollution are underway. WSF has taken measures in their new guidelines to slow their vessels in critical orca habitats aiding in underwater noise reduction. The museum urges concerned people to adopt an Ocra and support marine education and research through a monthly or yearly of a one-time donation.
After our information session, we had to venture to Lime Kiln Point State Park also known as Whale Watch Park, considered one of the best places in the world to view whales from the land. Orcas are common in the waters off from the 36-acre day-use park, along with seals, sea lions, Minke whales, porpoises, otters and various birds, including the bald eagle. Being off-season, we did conclude that the area was well maintained but small to the amount of tourism that descends upon this notable area. Although desirous to glimpse an Orca, we did not have the fortune to see this notable creature, but the abundance of interesting winged creatures and a playful sea lion that darted about in the still waters held our attention with rapt delight.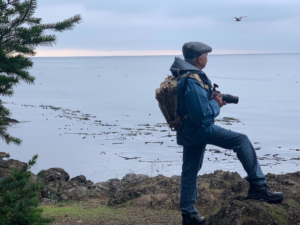 A visit to the nearby historic 1919 lighthouse turned out to be a treasure trove of information, as displays of interesting information and recent whale sightings were evident. "We do have people who come here and ask when the whales are coming by," chuckled the wizened docent. We laughed along with her as we also would love to see a scheduled Orca appearance, but Mother Nature's surprises are around every corner here and not on a pay-per-view schedule. After hiking along the craggy coastline through twisting groves of cinnamon-red barked Pacific Madrone trees, we worked up an appetite for some local fare.
On our way to Roche Harbor, a prominent place for seaside dining, we made an interesting jaunt to English Camp National Historical Park. Here the illustrious 1859 "Pig War" which was more of an unusual confrontation that almost brought about war than an actual battle. CUISINEIST IGTV " Pig War " History  This was once a windswept military outpost where an argument over an embattled pig became the forerunner of the now National historical destination.  History buffs and tour groups find their way to this desolate stretch of shoreline, as we encountered several large groups in the small parking lot. CUISINEIST IGTV Hike along the cliffs of American Camp  We hiked through a grove of towering pines, onto a field of browning grasses where historical building outposts are still maintained. The steep embankment dropped precariously down towards the still gray waters of the Pacific as we spied several partially camouflaged deer lounging on the brown straw in the distant horizon.
Gazing  into the vast ocean from a grassy knoll dugout where the British and American soldiers overcome with fatigue, cold and hunger, almost went to war again over a rouge pig.  The British camp claimed porky as their property, but an American farmer shot the wandering animal as a pesty predator not knowing it was British property. Enflamed emotions flared between the two camps fueled by fatigue, hunger, and boredom. British Admiral Robert L. Baynes quickly quelled the matter stating that he would not, "involve two great nations in a war over a squabble over a pig." Experiencing the remoteness, dampness, and the isolation of the area, we could understand how emotions could run amuck in the face of hunger and primitive living conditions.
After our fill of nature and natural history, we headed to Roche Harbor to dine at Madrona Bar and Grill, considered one of the best places for harbor dining. CUISINEIST IGTV Meet Chef Kelly Connally.  Adjacent to Madrona, the regal historic and oldest continuously running lodging, Hotel de Haro named after Spanish explorer Gonzalo Lopez Haro noted as one of the first explorers to the area, sits like a grand lady upon the hill. Overlooking the harbor, dotted with gleaming white yachts buoying gently on the waves, we took a seat within the casual open seating with large floor to ceiling windows.
This space held a sense of spacious grandeur, allowing serenity seeking diners to have their fill of carefully crafted cocktails, including one embellished with a tiny pink pig in honor of the almost, "pig war". We dined on fish and chips, a vibrant wedge salad with zesty blue cheese and pan-seared scallops with slow-roasted tomatoes and fresh spinach, deftly prepared and delicious. A bottle of Sancerre provided a harmonious pairing of sea and land.  Satiated and sleepy, we made our final jaunt to local Bed and Breakfast for our nights' reprieve before ferrying out to Orcas Island our final destination.
Not far from the ferry landing we found the Hillside House Bed & Breakfast. This 4,000 square foot premium property put us in a relaxed mood right upon arrival with spacious common areas, brilliant views of Mt. Baker and even entrance to Friday Harbor. The Hillside House is the perfect respite after a long day of travel with its landscaped gardens and secluded, quiet location.
Checking in we were greeted with aromas of homemade Banana Chocolate Chip Cookies-grabbing a few, we headed upstairs to our "Captains Quarters". Opening the door, our eyes settled on a huge guest room with spectacular views of the harbor, and front gardens. The huge upholstered window seat was a favorite for reading, meditation or just taking a comfortable snooze. Of course, you can't help but have a wonderful night's sleep as you sink into your King bed with Euro-style mattress with faux down and foam pillows.
The San Juans are pristine, and the Hillside House does its part to be sustainable. Freshwater is highly valued and is extremely limited. This B&B uses water-conserving Whirlpool Duet washers and Asko dishwashers, low-flow toilets and low-flow 1.5 showerheads. The well-manicured gardens and terraces feature drought-tolerant plants. Dwarf fruit trees along with pear, apple, and cherry trees provide bountiful fruit, shade, and food for guests and feathered friends.
In addition to conserving water, all appliances on the property use less electricity and are Energy Star rated. You find only LED and fluorescent lighting indoors and out.  Even the guest rooms, there are ceiling fans mainly because there is no need for air conditioning, even in the summer, temperatures hardly get to 80 degrees.
Enjoy home-cooked breakfasts and delectable afternoon treats in a living room that makes you feel right at home. Or just choose to pick a book of the bookshelf, sink back in a nice warm couch and relax. Whatever type of traveler you may be, you will find the Hillside House warm and convivial.
Onto Orcas Island in the morning, just a short ferry ride hat met with a slight hiccup as our ferry had a mechanical issue that pushed up our time to board. Wanting to explore some of the fabulous art galleries, we strolled along with the shops and saw the signage for a resale shop and decided to stop in. As a traveler, I often observe that thrift shopping is a wonderful way to get a few souvenirs without breaking the bank. In this case, several pairs of handcrafted earrings made their way into my goody bag of local artisanal products at a fraction of the cost found at the swanky art gallery in town.
Ferry readied, we drove aboard to our next and final destination on this short journey to Orcas Island. Some people think the Island is named accordingly because of the Orcas whales, but that is not the case, Orcas Island was named by British Admiral Sir Henry Kellett and is a shortened form of Horcasitas, the Viceroy of Mexico who sent an exploration to the archipelago in 1791. The largest of the San Juan Islands, its Douglas Firs and towering cedars, create a continuous canopy of light and shade. Freshwater lakes dot the rolling farmland where grazing sheep, horses, and a few alpaca graze happily on the verdant green-land. Here the Lummi nation roamed the hills and woodlands for their substance, regarding the earth and sea as their bounteous Mother. It was in the mid-1850 that Hudson Bay men came to hunt the black-tailed deer, intermarried, and then established homesteads. The pristine paradise of Orcas with its abundant and beautiful natural resources became a haven for artists and even a spiritual sect.
Today celebrity and wealth have bought up the pricey shoreline along with the hamlet, creating a squeeze on affordable housing for those who work seasonally in the area. Efforts are underway to create affordable accommodations for those who work seasonally in the few local restaurants and bars in the area. As we drove along the idyllic farm-scape, we did notice many local farm stands along the way including Girl Meets Dirt which takes the island orchard legacy seriously with a variety of classically prepare preserves and fresh food items. Nationally acclaimed Orcas Food Co-op accounts for more than 40% of all food sales and does business with over 70 local producers. Assistant General Manager Madden Surbaugh points out that, "the farming that's being done here is at a level that could compete anywhere." Combined with the utmost concern and care of the local natural resources, this food co-op is another brilliant example of Ocras'eco-friendly community-driven business.
CUISINEIST IGTV Join in a tasting of Doe Bay Wines For wine lovers, Doe Bay Wine Company held an interesting and eclectic mix of sommelier-selected wines that represent Island residents, known as the Orcas Project capturing the attention of the New York Times as one of the best wine tasting rooms in the country. CUISINEIST IGTV Learn about Doe Bay Wine Company Our overnight accommodations at the Inn at Ship Bay exuded farm to table hospitality with the renowned chef and inn-keeper Geddes Martin. Martin has been crafting dishes for decades with reverence and homage to earth, sea, and sky, with precision, pride, and passion. CUISINEIST  IGTV Check into the Inn at Ship Bay.
We drove upward on the dizzying roadway embanked by towering pines and the deciduous trees bedecked in their jeweled fall colors. Uphill, we spiraled to the Summit of Mt. Constitution. Howling winds nearly knocked us to the ground as we stepped from our vehicle.  We found shelter from the bitter cold and windy conditions within the historic stone tower where numerous historic photos cataloged its unusual construction. Below, though the stone framed windows, the expansive natural outlay of sea and land merge together as one awe-inspiring entity.
The park opened in 1921 when then Seattle Mayor Robert Moran donated 2,700 to the state for the purpose of becoming one of the first public works projects during the depression. Moran especially loved the area and also built an elaborate estate, Rosario which still reigns as a popular island resort. Moran believed the vibrant fresh air and natural surroundings held healing properties that helped him recover from health problems due to overwork and a heart condition that doctors gave him six months to live. The fresh air and glorious natural resources continue to draw hundreds of campers, hikers, bikers and outdoorsmen and women to the area. Moran State Park has over 200 camping and RV spaces and is contracted with LEANTO which offers glamping accommodations to those who fancy a bed over a sleeping bag.
With our strength and spirit renewed we boarded our final ferry ride to Seattle feeling like a visit to San Juan and Orcas Island established on-going love affair with Mother Nature. We may have come for a few days, but our hearts will remain here forever within the beating heart of its natural charms and sustained natural fortitude.  We too came to fall in love with this glorious island, and as Rachel Carson wrote, "Those who contemplate the beauty of the earth find reserves of strength that will endure as long as life lasts."