Atlanta, the crown jewel of the south, always changing like the Phoenix of Greek folklore; regenerating and obtaining new life by arising from the ashes of its predecessor, still vibrant and alive even in difficult times. From the outside, the gleaming skyline reaches high above ancient oak and magnolia trees. From the inside, southern tradition thrives, and its people are strong, always pushing forward on its strong southern roots.
The city's neighborhoods are all unique delivering memorable experiences along with exceptional cuisine. Pro Tip: Get a car and travel famous Peachtree Street winding through Downtown, Midtown, and Buckhead to get a feel of the city. For a trendy experience do not forget the Eastside and Westside of this historic city. Take a walkabout, turn an unfamiliar corner, explore, and enjoy!
Stay:
Found on the corner of Peachtree and Ellis Streets right downtown, in the heart of a city seek out and stay at The Ellis Hotel just steps from iconic landmarks, renowned attractions, sports venues, universities, and Fortune 500 companies. Checking into the award-winning, Ellis Hotel was a breeze.
We felt right down-home enjoying as many of its upscale lifestyle amenities including their state-of-the-art fitness center, business center, meeting spaces, restaurant, and lounge. We could defiantly see why this three-time Conde Nast Readers' Choice award winner, continues to draw in travelers from around the world to experience a historic piece of the south. We slept well in our Deluxe King enjoying in-room amenities like the flat-screen TV the mandatory, complimentary Wi-Fi, and relaxing in a shower featuring Kohler rain-shower heads.
Explore:
Pro Tip:  Get an Atlanta CityPASS® and discover Atlanta's best attractions for one great price and skip most main-entrance ticket lines. The price includes prepaid admission to 4 renowned attractions
Georgia Aquarium
World of Coca-Cola
Option Ticket 1: Zoo Atlanta OR National Center for Civil and Human Rights
Option Ticket 2: Fernbank Museum of Natural History OR Chick-fil-A College Football Hall of Fame. What more could you ask!
The Georgia Aquarium is well worth a visit. Take some time and spend at least a half-day and view a plethora of animals including 500 species from around the world and more than 60 habitats.
The exhibits are brilliant. Experience the Cold-Water Quest, Ocean Voyager, River Scout, Aquanaut Adventure, and Tropical Diver. The largest exhibit is 284 feet long x 126 feet wide x 30 feet deep at the maximum depth. It holds a massive 6.3 million gallons of water and home to whale sharks, manta rays, and much more. Not to be missed, the second-largest holds 800,000 gallons of water home to six beluga whales.
Of course, you will not want to miss the dolphins exhibit and dolphin show featuring an expansive underwater dolphin viewing window to watch a spectacular musical theatrical performance that highlights the emotional bond shared between dolphins and humans. Pro Tip: Arrive when the aquarium opens to beat the crowds. For the more adventurous, have a sleepover inside one of the Georgia Aquarium's exhibits and snooze away or Don a wet suit, dive into the water, and swim with whale sharks, manta rays, and more.
One of the most unique places to visit opened On February 22, 2019– The Atlanta History Center and Cyclorama: The Big Picture, featuring the fully restored cyclorama painting, The Battle of Atlanta. At the heart of this multi-media experience is a 132-year-old hand-painted work of art that stands 49 feet tall, is longer than a football field, and weighs 10,000 pounds.
This rare painting is one of only two cycloramas in the United States, the other being the Battle of Gettysburg cyclorama —making Atlanta home to one of America's largest historic treasures. It all started in the 1880s.  The Battle of Atlanta cyclorama painting is a total was an immersive experience. It is the modern-day the equivalent of virtual reality today.
The painting is a full-color, three-dimensional illusion designed to transport the viewer onto the battlefield. At the time, Cycloramas were created as a form of entertainment. Basically, they were the IMAX of their time. It is a visual story about the 1864 Battle of Atlanta, over time it has evolved into an important artifact that has its own fascinating story.
It was created at the American Panorama Company in Milwaukee by 17 German artists and took five months to create before it debuted in Minneapolis in 1886. Painted 22 years after the Battle of Atlanta, the painting originally depicted the battle from a Northern perspective as a heroic Union victory so that it would appeal to Northern audiences.
When the painting relocated to Atlanta in 1892, it was slightly modified and advertised as "the only Confederate victory ever painted" to appeal to its new Southern audiences that maintained Confederate sympathies. The 1864 Battle of Atlanta was not a Confederate victory, and most of these changes from 1892 were reversed in the 1930s.
Walking up the stairs we started with an introductory video as we entered Cyclorama: The Big Picture. We strolled through multiple levels of exhibitions that look at truths and myths of the Civil War. It's all about the untold stories of the painting. Take a long look-examine the role movies and visual entertainment have on shaping perspectives of the Civil War. Then it's time to see it up close. It is grand, no, it is monstrous!  After walking through a 7-foot-tall tunnel entry, we pass underneath, before ascending an escalator to the 15-foot-tall stationary viewing platform. Here we stood in awe taking in a a full 360-degree view of the painting, enhanced by technology and a 12-minute theatrical, larger-than-life presentation projected onto the painting. It is rare, educational, and awe-inspiring, well worth taking a detailed look.
Get outdoors and explore the historic Stone Mountain. It is best described as a pluton, a type of igneous intrusion. Primarily composed of quartz monzonite, the dome of Stone Mountain was formed during the formation of the Blue Ridge Mountains around 300–350 million years ago (during the Carboniferous period), part of the Appalachian Mountains. Native Cherokee, Creek, Muscogee, and earlier Indian tribes lived in Stone Mountain long before it was known as what is now called.  Stone Mountain In fact has been occupied as eight thousand years ago. They used the name Dome Mountain, unfortunately, white settlers started arriving and things changed quickly.
The railroad reached the village in the 1830s, which was a boon to both tourism and industry. The name of the village was changed to Stone Mountain in 1845-1847.  From that point on, the mountain became generally known as Stone Mountain and the village was commonly being referred to by the same name, so this name became official. Like the mountain itself, the carving at Stone Mountain has a long and complex history. It has had three carving superintendents, numerous sculptors, plenty of controversies, and over half a century passed between conception and completion.
The idea of a confederate memorial carving originated with William H Terrell and John Temple Graves in 1913 and was supported by Helen Plane of the United Daughters of the Confederacy in 1914. Models were created as early as 1917, but World War I delayed the project. The first carving superintendent was Gutzon Borglum began work in 1923. After delays and other problems, Borglum left the project in 1925.
The second carving superintendent, Augustus Lukeman, took over in 1925. But instead of completing Borglum's work, he created a completely new design. Funding ran out in 1928, and work on the carving was suspended for what turned out an exceedingly long time. Finally, work was finally resumed in 1963 under the direction of Walker Hancock who retained Lukeman's design but made many improvements. The carving was dedicated in 1970 and declared complete in 1972.
The Atlanta Zoo is one of the most impressive in the country. The origins of Zoo Atlanta date back to 1889 in the form of a traveling carnival operated by George W. Hall. The carnival didn't prosper and was donated to the city of Atlanta. His collection of animals was the foundation of the new zoo, which prospered until it nearly went bankrupt in the 1980s. The zoo brought in director Terry Maple, who oversaw the renovation and guided the zoo to become successful once again. It has been a major tourist attraction for the city of Atlanta ever since, and one of the most prolific owners of exotic animals in the world. There is an abundance of animals and plant species at the zoo, including 50 species of bird and 40 species of mammals bringing it to over 1,300 animals in total.
The zoo also hosts the largest gorilla and orangutan population in the United States. A few rare and endangered species can also be found in the park, including Komodo dragons, Arakan forest turtles, and even elusive clouded leopards. In 1999, Zoo Atlanta introduced an exhibit of giant pandas, becoming the fourth zoo in the US to house the rare, special animals.
Go back in time to the Jurassic Age at Fernbank Museum of Natural Science noted as one of the top ten museums in the country for dinosaur displays. Being a proud owner of a Jurassic Park Jeep and a recent dinosaur enthusiast, we had to visit "Sue" as a part of the Fernbank's new exhibit, Amazing animals: Built to Survive. Sue just happened to be on display while we on our tour of the south, and our dinosaur desire got the best of us. A visit was mandatory to see a replica of the world's most complete T-Rex ever discovered.
Just strolling into the three-story atrium our jaws dropped while taking in the massive 123-foot long Argentinosaurus, the largest dinosaur ever classified. Although a cast of the original, its monumental size within the space, made us feel like we were truly just mere mortals in the grander scheme of Mother Nature. Many more impressive creatures awaited us we spent an afternoon enjoying the wonders of nature.
The museum delighted us as we discovered the magnificent dinosaurs of the past, and were equally captivated by the various science adventures offered throughout the campus as well as inspired by the interactive displays along the Fernbank creek. Founder Emily Harrison's early preservation quest in late 1800's to keep the creek bed covered with ferns free from the sprawling growth of Atlanta lent to her vision in establishing Fernbank as a 501(c)(3) non-profit with the intent to secure the 65 acres of old-growth woodlands for future generations to enjoy.
The Fernbank Museum grew out of Harrison's love for nature. It would take another 100 years to break ground and was officially opened to the public on October 5, 1992. Continuing to meet the evolution of all species through education, technology, and nature preservation, Fernback lives up to Harrison's vision and legacy.
Dine:
In swanky Alpharetta just outside of Atlanta, we have a couple of close Las Vegas connections, the late Celebrity "Rock in Roll Chef" Kerry Simon and our friend for many years Cory Harwell. Having graced Carson Kitchen Las Vegas, literally since its inception, we felt right at home even recognizing some familiar faces from Las Vegas.  This is the second location of chef/owner Cory Harwell and just like its Las Vegas counterpart built on the belief of creating one-of-a-kind comfort food prepared with approachable fine-dining ingredients. "My menu is inspired by the food my grandmother made for me as a kid growing up in Woodstock, Georgia, food is served in a welcoming environment where guests can connect with family and friends," Harwell said smiling. The concept from the very beginning was a collaboration with celebrity chef and close friend Kerry Simon. Looking over the menu, southern influences jump off the page both familiar and recognizable at the same time.  Where else can you try foie gras, rabbit, frog's legs, and other ingredients not normally found in a very laid-back environment?
Carson Kitchen a replica of the old 1848 Milton County Courthouse. Just as you walk through the welcoming front doors, one's eyes are drawn immediately to an open kitchen with a long marble slab that serves as a chef's table where guests can hang out with chefs and watch their preparation. Goosebumps came over us,  as we couldn't help but notice a mural of Kerry Simon, interpreted and painted by a local artist, adorns the patio wall of Carson Kitchen.
Taking our seats next to a wall-to-ceiling glass window, we sat back, relaxed, and just let the good times roll as they say. We could not pass up one of our all-time favorite libations here, the classic Bees Knees with a spin. Local Gin, quince, smoked honey, and fresh lemon provide a refreshing start. For starters, the legendary Crispy Chicken Skins with smoked honey and "Devils" Eggs with crispy pancetta all topped with caviar. This is classic Kerry Simon.  No matter what, do not pass up the Butcher Burger, Boursin, cheddar cheese, lettuce, and tomato. You won't be sorry! For a larger entrée to sink your teeth into some Venison, Salisbury steak, topped with rich brandied mushroom cream. Finish the experience with Glazed Donut Bread Pudding with three rum caramel with vanilla crème Anglaise right on top. Our next stop? Carson Kitchen Salt Lake City here we come- Keep Calm and Kerry On!
Run, don't walk to Downtown Atlanta and White Oak Kitchen & Cocktails. White Oak certainly adds a perfect respite to dining and events in downtown Atlanta. Walking in on a rainy Atlanta evening, we could help by be impressed with its interior classically accented with white oak and re-purposed wood on many of the walls. Three signature chandeliers constructed of authentic sugar maple from the Jack Daniels Distillery illuminate the main dining room adding to its fine dining ambiance.
The menu features an eclectic combination of classic southern cooking bringing together contemporary with the traditional that is simple and complex all at the same time. Executive Chef Tim Magee's culinary skills combine rural and metropolitan cuisine requiring very precise methods of production that produce dishes that appear simple and yet familiar.  "Each item is simply named to guide you toward your selection, while ingredient and preparation details are listed should you have a greater interest; however, no matter your level of interest or culinary knowledge, rest assured your Snapper will taste like snapper and your Grits will taste like grits," Magee said.
The Bar at White Oak's is 360-degrees of crafted Georgia marble and freshly planned white oak. We house a spectacular collection of over 70 whiskeys and bourbons, as well as a selection of carefully chosen vodkas, gins, and wines. General Manager "Richard Peterson, General Manager joined us at our table. With an exuberant smile added "Our Barrel Bar was named the top Whiskey Bar in Georgia by Thrillist Magazine and designated by the Bourbon Society a Great Bourbon Bar of America. Our cocktails, whether shaken, stirred, infused or neat are classically prepared in the spirit of approachable hospitality in the true Southern sense."
Settling in, the Beignets with Rock Shrimp, Alabama White BBQ Sauce, Green Tomato Marmalade was a great way to start. Of course, an interesting dish of ground duck, tomato fondue, tagliatelle, mushrooms, Parmigiano Reggiano cheese certainly put a smile on our face.
You can't go wrong with rich, savory Duck confit, port figs, tarragon, chicharron, and topped apple-walnut vinaigrette. Getting down and gamey, don't miss out on an exceptional Wild Boar, perfectly braised with smoked gouda, spicy whole grain, simple salad, and baguette.
In the fashionable Buckhead district enjoy classic French cuisine at Bistro Niko This extraordinary venue offers a nice attractive, extensive list of wines, cocktails, and craft beer. The menu features classic French cuisine offering brunch, lunch, and dinner. Signature items range from a specialty Charcuterie Board, Veal Tenderloins Chasseur, fresh oysters, and Maine scallops.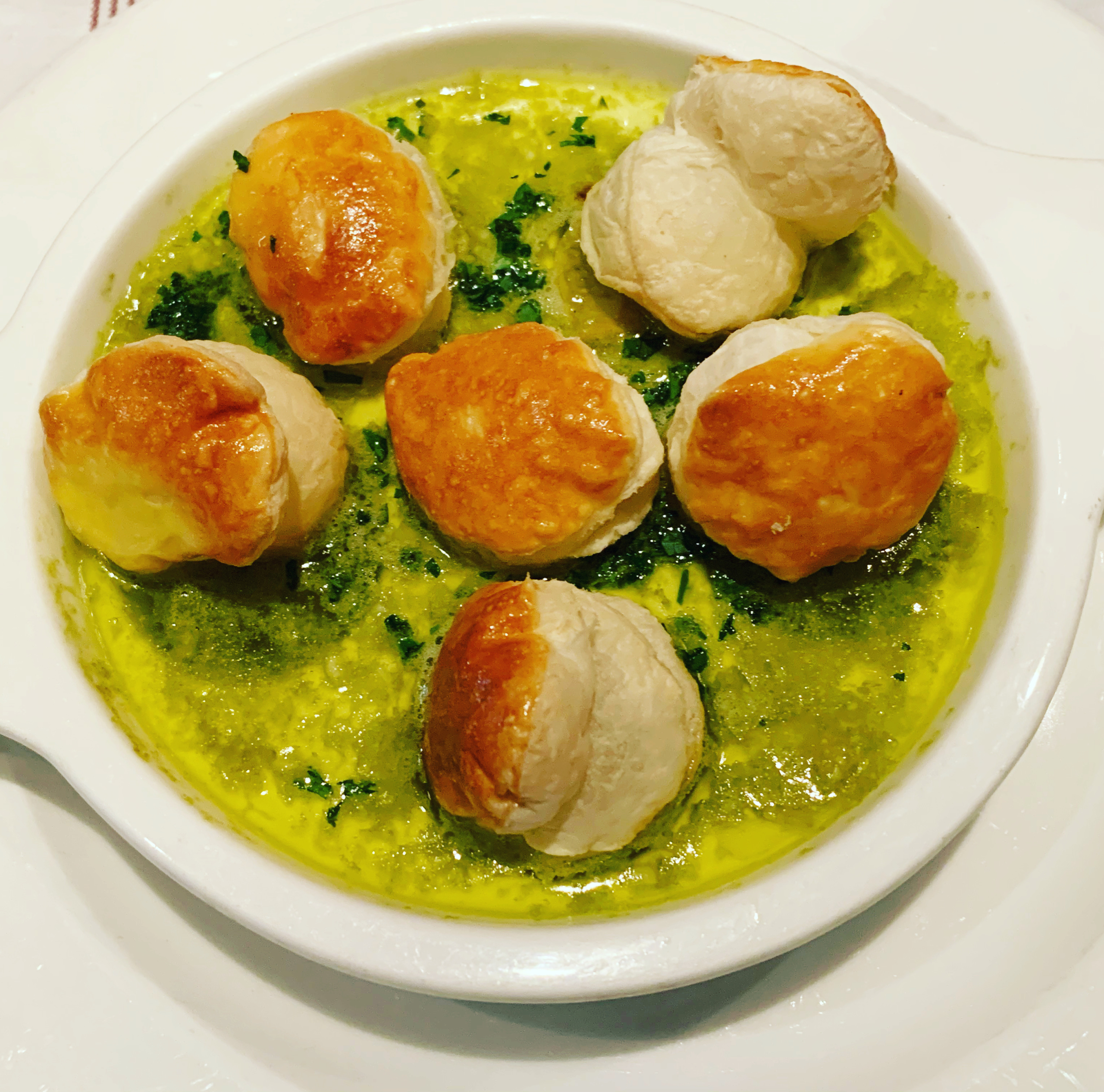 This evening we enjoyed brilliant sections Tureen French Onion Soup, Gratinée au gruyere along with a traditional Caesar salad with baguette croutons, au Parmigian, and white anchovy. Go all in a classic with GA Mountain Trout Amandine Sautéed topped with toasted almonds, along with French green beans and lemon olive oil emulsion.
Atlanta has a long history, ever-changing, continually changing with the times, all the while keeping true to its southern roots. Even in difficult times, this historic city offers everything from fine dining, attractions, and outdoor activities for all ages to enjoy.