South Seas Island Resort on Captiva Island moves from covid to captivating the tourist market once again as more people make their way south in an almost pent-up desire to relax, refresh and rejuvenate after a year of closures and quarantines.
While suitable health protocols are now the new normal, breathing the fresh sea air while buoyed by the lulling lapping waves of the iridescent Gulf of Mexico, one can forget the emotional and physical turmoil of the previous year. In her book, the Gift of the Sea, author Anne Morrow Lindbergh, observed; "the beach is not a place to work, to read or write. One is forced against one's mind against all tidying resolutions, back into the ancient rhythms of the seashore." In this world of endless distractions, Lindbergh found the solitude to return to her inner self many years ago. Although written years ago, Lindbergh's tome on relationships and the sea continues to speak of the island's powerful inspiration.
Explore South seas island resort on Captiva Island Florida Check in to the South Seas Island Resort on Captiva Island Florida with journalist Elaine and Scott Harris. On CUISINEIST IGTV
Today, this very place transcends time, a place where nature knows how to nurture the body, mind, and spirit. The observer can savor the present moment as dolphins breach nearby and manatees roll in the still canals. Osprey and pelicans dive into the waters pulling plump fish from the water with grace and ease. The gentle breeze picks up the salinity and the fragrance of tropical blooms that fill the visual landscape along the shoreline. Relax into the new normalcy focused on health and wellness for just a few days, weeks, or months in this setting meant to refresh the body, mind, and spirit.
Join Elaine and Scott Harris at South Seas Island Resort on Captiva Island, On CUISINEIST IGTV
There is a special place for you on Captiva island at the South Seas Island Resort. "Sanibel may be a place to reside, but Captiva is the place to escape," said Francesca Donlan, director of communications for Lee County Tourism.   This 330-acre destination beach resort has the calming vibe of old Florida yesteryear with a modern upscale vibe for the entire family.
As we made our way to the Captiva's only hotel, the South Seas Island Resort, towering palms, oleanders, and warm white sands abutted the well-traveled road. We noticed a giant billboard as we entered the case way connecting Sanibel and Captiva islands, "What is your birth shell?" Perhaps we will find our answer as many have as shelling on these islands is considered the most sought-after activity while visiting this region of Florida.
"One cannot collect all the beautiful shells on the beach. Gradually one discarded and keeps just the perfect specimen. One sets it apart by itself, ringed around by space like the islands," commented writer Anne Morrow Lindbergh. The perfect scallop, whelk, or moonshell may tempt us to spend our days developing the "Sanibel Stoop "while becoming bewitched by the "shell spell" of the islands.
From novice Shell-lovers to dedicated shell enthusiasts to this area, the shell-laden currents and the protected underwater shelf create the ideal beachcomber conditions that draw hundreds of shell seekers yearly. Both Sanibel and Captiva have earned their shelling reputation, but there is so much more to consider, as we realized in our few short days on Captiva. Pro Tip: Get to the beach early in the day for the best selection of shells from the overnight high tide.
Where to room: For those looking for an island getaway that is a bit more exclusive and inclusive, Captiva delivers service, amenities, and oceanfront rooms that boast spectacular views. The Waterfront Harbourside Hotel guest rooms are full of nautical touches, whitewashed flooring, and superior bedding adorned with crisp white linens.
Take a walk along Sunset Beach at South Seas Island Resort an Captiva Islan Explore Sunset Beach at South Seas Island Resort on Captiva Island Florida with journalist Elaine and Scott Harris. On CUISINEIST IGTV
The ambiance of cool blues accented by picturesque textural elements fills the refreshingly inviting décor with a calm sensibility. The Waterfront Harbourside Hotel Guestrooms are a new open floor plan; each of the 30 waterfront hotel rooms features gorgeous views of the shimmering ocean, providing a brilliant backdrop to this visual landscape, whether in your room or away from it.
Spacious Villas range from 850 sq. ft to three thousand four hundred with full kitchen amenities, screened balconies, and large living areas. For those wanting to experience an authentic island existence, Private homes and specialty Cottage Rentals or Homes of Distinction are also available for those looking to extend their stay.
Where to Roam: The Island of Captiva holds 2.5 miles of superior shelling with more varieties found here on the beaches and the beaches of nearby Fort Meyers and Sanibel Island. The islands feature an incredible 250 species of shells while on your hunt, spot shell-seekers doing the "Sanibel Stoop" or "Captiva Crouch" as they search for the perfect shell.
Get out on the water with guided kayak tours, boat charters for back-bay fishing, wave runner island tours, and banana boat rides. Pro Tip: Take a 1 ½ hour cruise on Captiva Cruises to historic Cabbage Key for lunch, go back in time and immerse yourself in old Florida.
Cruise to Cabbage Key for Lunch! on CUISINEIST IGTV
What to dive into: Captiva teams with water activities for the entire family.  Fishing, swimming, paddle-boarding, jet-skiing, and Parasailing – there is something for everyone at your party. Whether you are dipping your toes or parachuting above the glistening waves, leisure fun abounds around the Island with Sunny Island Adventures.
Learn to sail year-round at South Seas in the Gulf of Mexico with Colgate OffshoreSailing School, Americas No. 1 Sailing School, certified by US Sailing. Enjoy a two-hour clinic, or 3, 5, or 7-day sailing class.
Corporate teams may also challenge each other to a unique regatta competition. Kids and teens can even learn to sail for free! The full-service Yacht Harbour and Marina are located at the Resort's North Pointe and feature 2,400 feet alongside berthing for yachts up to 120 feet for the boaters. Dockage is available for boats 25″ and under at the Bayside Marina, South Village. Also found at the Bayside Marina is Best Boats Club Rentals, where guests can rent deck boats, pontoon boats, and even center console boats that are great for fishing. Pro Tip: Take a walk through the marina any time of day or night a take in the beautiful yachts that are certainly nautical works of art. In the early morning and late afternoon, watch endangered Florida Manatees frolic in the calm, bountiful waters of the marina amongst the boats.
Weddings:
Why not get married in Paradise!  With over two miles of indoor and outdoor settings at the edge of the Gulf Coast of Florida, this is without question a tropical romantic wedding destination in a spectacular setting. Make it your own with customizable packages and personal Wedding Consultants who will make your seaside wedding dreams become a reality. The Resort offers 45,000 sq. ft. of flexible indoor and outdoor function space to accommodate 300 guests.
Sports:
Hit the links with a one-of-a-kind view as you golf along the Gulf of Mexico. The Resort's 9-hole, par-27executive course – The Captiva Course – designed by Chip Powell provides anything a golfer of any level will appreciate. If golf isn't your thing, The Blackwood Tennis Academy features services and instruction for individuals and groups of all levels on 11 courts for day and evening play. Pro Tip: tennis concierge service is the place to inquire about private instruction by certified professionals, daily clinics, and group tennis functions.
Where to Dine: Dishing it island style is what both the locals and visitors do well with hearty ocean-inspired, tropically tantalizing menu items to choose from at various island restaurants.
Harborside Grille is now open for the fresh catch of the day, pasta, steaks, and a refreshing handcrafted cocktail or a selection from the well-appointed wine list. The outside patio is the place to watch the yachts roll in while savoring the tastes and textures of the Harborside menu. Begin with delectable oysters or Yacht – line candied bacon, then go for the main course gulf grouper accented with white wine, lemon butter, and mango, pineapple chutney with a slightly spicy Mandarin Ginger glaze.
The Pointe is located poolside at the massive Resort Pool Complex on the north end of the Resort. The island-inspired menu showcases a selection of sandwiches, salads, burgers, and vegetarian-friendly options.  Indulge in the Jamaican Jerk Chicken, Ahi Poke Bowls, Fish Tacos with Grilled Mahi and Grouper.
Relax and enjoy a favorite libation at Crooked Snook Tiki Bar, a full-service bar facing Pine Island Sound and adjacent to the three pools within the Resort Pool Complex.
The bar serves tropical drinks, frozen specialties, beer, as well as a full bar.
South Sea Island Resort Captiva Island If you love bacon, don't miss this! Harborside Bar & Grill. On CUISINEIST IGTV
For a real southwest Florida experience, don't pass up Doc Ford's Rum Bar & Grill, a historic Southwest Florida restaurant featuring the Caribbean- inspired specialties to South Seas such as a Lime Panko Crusted Fish Sandwich.  Pro tip: Order one of their famous Mojitos; you won't be disappointed. Before leaving the bar, pick up a riveting novel by New York Times bestselling author and resident Randy Wayne White whose sleuthing character is the namesake of this popular eatery.
For more casual comfort fare, Scoops & Slices is the place to be. This1950's themed diner at North Pointe Village serves a plethora of ice cream selections, pizza, fat-free, gluten-free frozen yogurt, and even a floor-to-ceiling candy wall highlights the restaurant.
While enjoying the pristine beach, pull up a seat at Attitudes Beach Bar and Latitudes Food Shack, both featuring Mexican-inspired, casual fare, and delightful cocktails to enjoy the beach along with live music. Pro Tip: Stay for the unmatched sunsets over the Gulf of Mexico's blue waters and enjoy the festive nightly Sunset Celebration as the sun takes its colorful descent into the ocean, of course- weather permitting.
Sunset Celebration Wish Upon A Seashell.. join Elaine and Scott Harris with Beach sounds!! #sunset Sunset Celebration.. Hanging on the beach with the legendary Danny Morgan a true Parrot Head who tours with Jimmy Buffet! On CUISINEIST IGTV
Located at Chadwick's Square, Captiva Provision Company, a gourmet market, is a full-service deli serving fresh fruit, salads, souvenirs, and over 150 wines and spirits.
During your visit, the Ships Store, conveniently located at the corner of the Yacht Harbour and Marina, NorthPointe, is the place to pick up souvenirs, boating supplies, fishing equipment as well as Boar's Head deli sandwiches.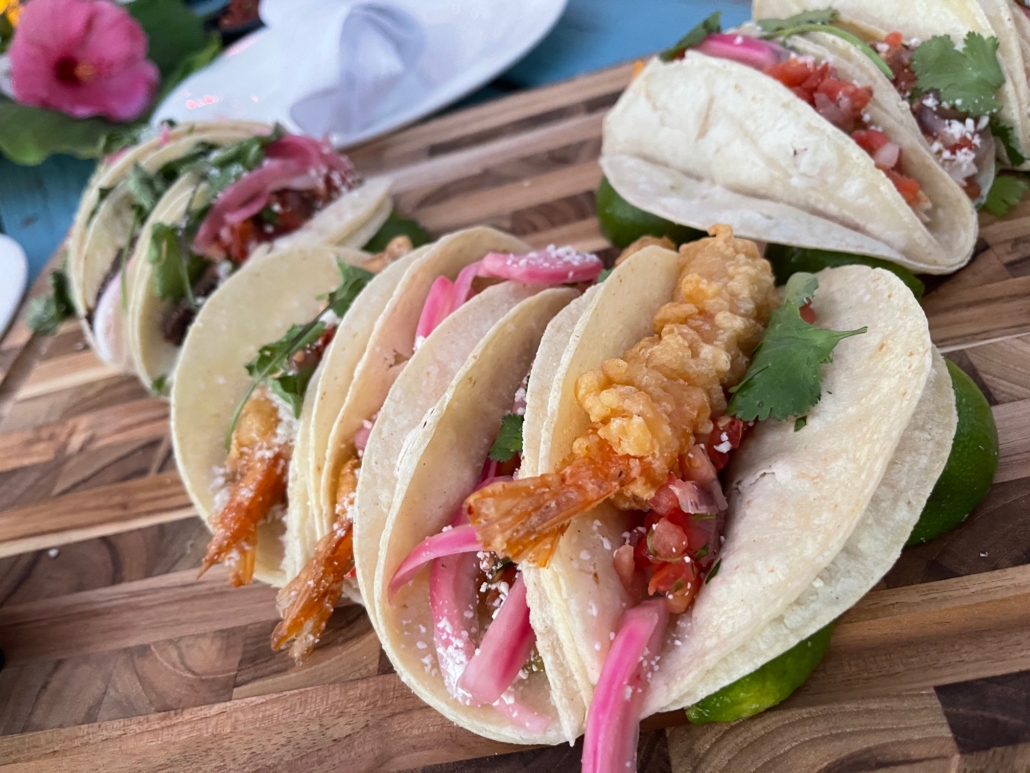 While dining, drinking, or dangling high above the ocean behind a colorful parachute, Captiva Island has the perfect gift from the sea, shore, or even from the air that will continue to nurture island memories within every guest for years to come.    South Seas Island Resort is the ideal place to enjoy Captiva's old Florida appeal. As former island dweller, Anne Morrow Lindbergh concluded that although holiday vision tends to fade, she remembered to view life with an island eye, and the ubiquitous shells aided her in reflection. Ask yourself, "What is your birth-shell? Come to Captiva Island to find the island's answer and much more.