View Our Recent Events
It's Wine and Painting In The Village!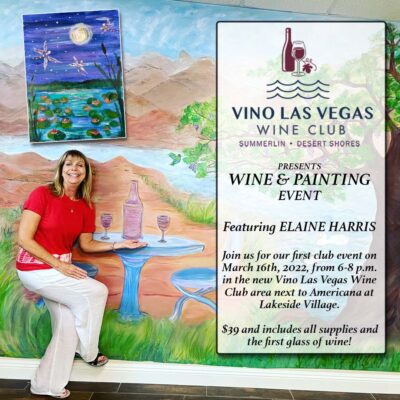 MARCH 16th, 2022
6:00 – 8:00 PM
Vino Las Vegas Wine Club is offering an exciting inaugural event with a fun-filled painting and wine class with artist, writer, sommelier, and former art educator Elaine Harris.
The first class begins on March 16th, 2022, from 6-8 p.m. in the new VinoLasVegas wine club area next to Americana at Lakeside Village.
Elaine spent 15 years with the Clark County School District in various positions in the district. Ten of those years she spent as a classroom educator teaching at multiple grade levels and as an art educator, developing art classes for children ages 5-10 years while integrating art history and other academic curricula into the different lessons. After retiring from CCSD, Elaine is a full-time food, travel, and wine writer, her work appearing in major newspapers and magazines and as a professional artist. Join the painting party and make a splash into art and wine at Lakeside Village.
For $39, all supplies and a complimentary glass of red or white wine glass will be provided as we begin with "Dragonflies over Lake Jaqueline."
We hope you come and dive into a world of art and wine lakeside in Desert Shores Summerlin.