Bainbridge Island is only a short ferry ride from the burgeoning city scene of Seattle, yet it feels like an oasis of peacefulness from the hustle and bustle of the big city scene. This easy day-trip is a respite of recreation, relaxation and for some, residential bliss beyond Seattle's beckoning shoreline.  Getting there via the Washington State Ferry is an easy journey to an Island filled with breathtaking natural beauty, colorful history, fabulous food, shopping and outdoor activities. Incorporated in 1992  and a mere 65 square miles, many Seattle residents and tourists have discovered that and a very reasonable $8.40 round-trip ticket is all that is needed for an enjoyable reprieve from the busy city.  The popularity of this day trip makes the short 35-minute ferry ride a crowded one, especially during peak travel season, so arrival at the ferry one or two boats ahead of schedule is well advised.
CUISINEIST IGTV Arrive on the Washington State Ferry
The verdant landscape teems with abundant flora and fauna and lush landscapes ceaselessly draws nature enthusiasts to the Island but Bainbridge's varied history is the backdrop for those who seek out its interesting back-story. Captain George Vancouver was the first English explorer to the Island in 1792 but 50 years passed before an expedition led by explorer Captain Charles Wilkes named Islands Bainbridge in honor of Commodore William Bainbridge, a naval hero of 1812. Ironically, Bainbridge never set foot on the island that bears his name today. In the early 1800's Bainbridge's profitable shipbuilding businesses boasted some of the world's largest schooners while some of the largest lumber mills were established, bringing about a need for suitable housing, schools and other infrastructure to the Island.
Bainbridge held the right climate and soil for growing superb strawberries. With the expansion of the strawberry business, a large contingent of Native American, Japanese, and Filipinos found work, established families and embraced the community.  By the 1940's the prolific strawberry growers were producing a staggering 2 million pounds of strawberries per year. The strawberry business came to an almost halt, as WW11 brought the forced evacuation of many of the workers on the Island.
The area has the infamous notoriety of being the first city to force Japanese families into Internment camps after the bombing of Pearl Harbor. As you descend the ramp into the harbor of Bainbridge, historical pictures forever hold the sadness of those who faced a forced six-day relocation to the internment camps in California and Idaho.
A base for the Navy was established during World War II to eavesdrop on the Tokyo to San Francisco radio waves, recording through Morse code the Japanese diplomatic messages. The military presence continued with Fort Ward remaining either as naval or army base until 1960. For more interesting facts about the many aspects of island history, a visit to the Bainbridge Island Historical Museum located just a mile from the ferry terminal is worth a few moments to learn about more about the history and mysteries of the island.
Despite the shadows of the past, the conservation of two special people and former residents transformed a large portion of Bainbridge into a garden of healing and hope. N.Y Times considers the Bloedel Reserve, "One of the country's most original and ambitious gardens." Around every trail, Mother Nature's glory is on display. The Reserve is a true testament to former residents Prentice and Virginia Bloedel who maintained the manse, grounds, and ambiance of this rare property for over 30 years.
CUISINEIST IGTV Take a walk Through The Bloedel Reserve
Prentice Bloedel was considered the father of reforestation, introducing replanting on clear cut lands as he was deeply interested in the healing relationship between people and the natural world. Walking through the stunning property of manicured gardens adjacent to Nature's own wild and riotous display, one would heartily agree that this public garden is a true Natural sanctuary. With so much to see, learn and do, coming up with a plan to stay, dine, and sip while visiting the Island is a must.
CUISINEIST IGTV Enjoy The Fall Colors at The Bloedel Reserve
Stay: Bainbridge Island offers many amenities from excellent dining, pubs and of course, a variety of accommodations. Located just 1.2 miles from the ferry landing we arrived at The Marshall Suites. It's 100% non-smoking and located right in the middle of the action in downtown Winslow. The name itself has quite a local history.  The hotel was renamed in 2018 to highlight the rich history of the island.
More than a century ago, most of Bainbridge Island was covered by fields of Marshall Strawberries that were farmed and harvested by the many Japanese, Filipino and Native Americans who still call the island home. After WWII, the strawberry fields were abandoned and had been overgrown by trees and vegetation.  The Marshall strawberries were displaced by more disease-resistant varieties. Today these special Marshall strawberries are highly sought after by aficionados for their sweetness.  These exceptional strawberries are gown once again by the local Historical Society grows some as well as several island farmers and home gardeners.  Even the Marshall Suites logo was designed to honor this unique part of Bainbridge Island history.
The lobby is bright and convivial, evoking feelings of home with fresh warm cookie aromas guiding us to the front desk. Our delightful host explained, "All fifty suites were just renovated in 2018 with plush new beds, furnishings, carpeting and even décor."  The Marshall Suites offer three types of suites, the Queen Suite, King Suite, and our suite, the Double Queen Suite-all of which provide relaxing respite for your visit to this historical island.
Walking to our suite, we noted- the hotel's three floors are themed, "Water", "Land", and "Sky" all combining to bring nature inside with a sleek modern sensibility in comfort and streamlined design.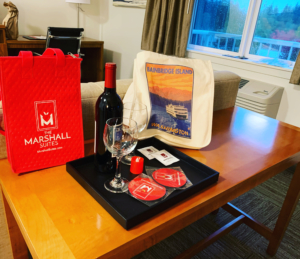 Our new suite's view gave us a wonderful new of the bustling hub of downtown Winslow just a few blocks away. After freshening up we journeyed out to sip, dine and explore the best downtown Winslow has to offer.
Dine: Dining where the locals like to dine, is a sure bet to getting insider information on where to find good food and interesting company. Talking to the local barkeep can also prove to be a treasure trove of local information. Docs Marina Grill the place exudes the conviviality of genuine local hospitality.  Delectable aromas of grilling meat and seafood fill the air. We struck up a conversation with server Jeff who joyfully told us that the waters here provide for the best seafood. "I take my 50-foot boat and dog out and set my pots before work and when I get back, I find beautiful Dungeness crab." It doesn't get fresher than that! We began our dining journey with the fresh oysters and a superior Washington State Wine before we indulged in a plate of some of the freshest succulent crab legs we have ever experienced.
Another great find on this journey was spacious and inviting restaurant, Bruciato specializing in sumptuous Neapolitan style pizzas, made to order and a composed of hand cured meats, a masa dough fermented three days in a process known as cornicoine that when completed makes the bruciato or the flame –blackened blisters that form on the dough during their pain-staking process. Aside from the show-stopping pizzas, what struck us was the most extensive and expansive Aperitivi list we have ever seen, boasting a wonderful selection of Campari, Vermouths, and Amaro.
Exclaiming to be, "great on the rocks with soda, or for an additional upcharge make it a spritz with a splash of Prosecco for a mere $3 more. We loved watching the local action of pizza spinning and cocktail mixing to a happy lunch crowd as we savored each bite of our fresh Margarita pizza and a cool fizzy flavor of our refreshing Campari Spritz.
Along the main street shops abound with unique shops such as Pelindaba Lavender, Churchmouse Yarns & Teas, and Bon Bon, and Salt House Mercantile which abounds with thoughtful home gifts and decor with a coastal flair. Art is a part of the local landscape with galleries flourishing along the main drag. Winslow Art Center and Studio & Gallery are a must stop for those looking for the perfect painting or ceramic piece depicting the beauty of the Pacific Northwest.
CUISINEIST IGTV Dinner on a Farm at HeyDay Farm on Bainbridge Island Washington
But along the way, we heard a hint to go the local Bainbridge's neighborhood Pub, where dollar oysters from the Baywater Shellfish Co. would have locals filling the seats as soon as the doors open on this Wednesday evening. Quickly finding our way off Main Street, we found our front-row seat to watch our oyster Shucker work his deft oyster shucking fingers nearly to bone, as order after order of these mouth-watering bivalve mollusks came his way. We loved our fresh briny bites that paired well with a lovely Washington State Pinot Noir; a satisfying way to spend our last hours by the bay, devouring several dozen of these mineral-rich oysters.
Our day quickly disappeared as the twilight soon fell around the brilliant fall trees, but our hearts and appetites were well satiated by a place that honors history, the earth and the sea Frontiers in Psychology reports, " that those who put themselves in an environment where they interacted with nature for 30 minutes at least three times a week, their stress-hormone levels dropped significantly." We left Bainbridge Island feeling happier, lighter and more stress-free than we had in years. Mother Nature really is good for the soul and Bainbridge Island knows how to integrate nature and nurture with flair and sophistication.